What Is A Lutheran ..... (Part 4)
What Is A Lutheran ..... (Part 4)
A Heritage to Build Upon
---
Our Lutheran faith is rooted in the truths of the Bible itself, but the name Lutheran dates back to the 16th century. It comes from a man named Martin Luther, who lived in Germany from 1483 to 1546. Bible-believing Lutherans everywhere still hold to his teachings which come from the Bible.

Luther struggled with the same basic problems that trouble people today. He longed for peace with God, for assurance and certainty. Unable to achieve this by his own works, he found the source of that peace in the Bible. When Luther discovered the love of God in Jesus, he exclaimed, "I felt myself to be reborn and to have gone through open doors into paradise." Those doors are open for all, including you.


Here is the seal representing the Lutheran church ...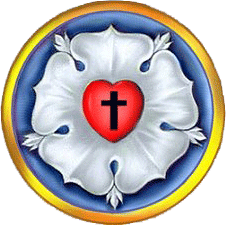 A cross on a heart symbolizes that faith alone in Christ saves the sinner;
resting on the center of the white Messianic Rose symbolizing the joy, comfort and peace that faith brings;
standing in a sky-blue field which symbolizes expecially the hope of a future glory;
and surrounded by a gold circle to represent the rich glories of heaven which will last for all eternity.